Stock market continues to be affected by risk aversion Convoy
MPF Composite Index decreased 0.56%
(3 September 2018 – Hong Kong) As of 30 August, the Convoy MPF Composite Index was 231.66, with a 0.56% decrease month-on-month and a 1.98% decrease January-to-date. The Convoy MPF Equity Index was 249.73, decreased by 0.87% month-on-month and fell by 2.82% year-to-date. The Convoy MPF Bond Index was 152.81, decreased by 0.10% month-on-month and fell by 1.72% year-to-date. According to the MPFA's announcement, the number of MPF scheme members was 4.19 million as of December 2016. Each employee lost an average of $4,240.10 in this year so far.
No consensus on trade disputes, adding pressure on stock market
Market risks continued to be high in August as the US-China tariff war has become more intense. After imposing tariffs on US$34 billion worth of each other's goods in July, the two countries levied the tariff again on US$16 billion of goods in August. The economic performance of China showed signs of slowing down and the country adopted policies which affected the related-industries, such as freezing online game approval and banning the expansion of corporations in the non-profit school sector through mergers and acquisitions. The market worried that China cannot maintain its economic growth under the trade war and economic reforms, resulting in sell-off in both China and Hong Kong stock markets. At the same time, the performance of Tencent in Q2 2018 was worse than market expectation. The fall of its share price dragged down the Hong Kong Equity Fund which became the worst fund category in the month with a decrease of 2.34% month-on-month.
On the other hand, the US stock continued to lead the market. The better-than-expected retail market performance reflected the continuity of economic driving force. The strong economic growth expectation and the good corporate performance also supported the stock market and benefited US Equity Funds with an 3.32% increase month-on-month. The year-to-date returns have recorded a cumulative increase of 9.34%.
Summary of Performance of MPF Key Funds Class in August:
Equity Funds:

US Equity Funds performed well relatively with an 3.32% increase month-on-month and an 9.34% increase January-to-date
Hong Kong Equity Funds performed the worst, recorded a 2.34% decrease month-on-month and a 5.77% decrease January-to-date

Bonds Funds:

RMB Bond Funds performed well relatively, recorded an 0.27% increase month-on-month and a 0.60% decrease January-to-date
Global Bond Funds performed the worst, recorded a 0.27% decrease month-on-month and a 1.79% decrease January-to-date
Default Investment Strategy:

The Core Accumulation Funds of the DIS increased by 0.84% month-on-month, increased by 1.94% January-to-date
The Age 65 Plus Funds of the DIS increased by 0.30% month-on-month, increased by 0.19% January-to-date
Convoy MPF Index Trend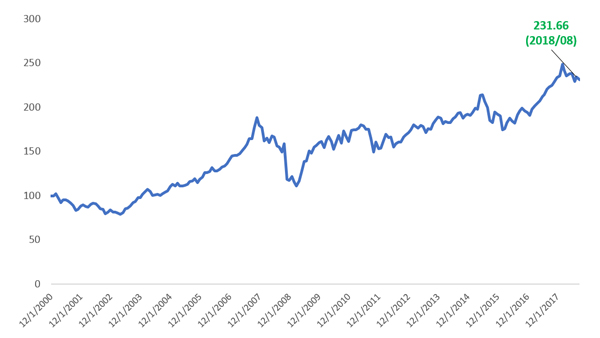 SOURCE: CONVOY FUND RESEARCH DEPARTMENT, WEBSITE OF MPFA AND THOMSON REUTERS LIPPER
COMPILED BY THE CONVOY FUND RESEARCH DEPARTMENT
DISCLAIMER: THE CONTENT IS FOR REFERENCE ONLY AND DOES NOT CONSTITUTE ANY SUGGESTION AND OFFER FOR INVESTMENT. PLEASE DO NOT RELY ON THIS ARTICLE FOR YOUR INVESTMENT DECISION. INVESTMENT INVOLVES ELEMENTS OF RISK AND THE HISTORICAL DATA OF THE FUNDSS IS NOT NECESSARILY AN INDICATOR OF THEIR FUTURE PERFORMANCE. CONVOY ASSET MANAGEMENT LIMITED ("CONVOY") HAS UNDERTAKEN REASONABLE EFFORT TO PREPARE THE CONVOY MPF INDICES. CONVOY CANNOT GUARANTEE THE ACCURACY
Performance of Key Funds Classes:
| | | |
| --- | --- | --- |
| Funds Classes | Month-On-Month | January-To-Date* |
| Asia (Ex-Japan) Equity Funds | -0.83% | -6.40% |
| Asia (Ex-Japan and Hong Kong) Equity Funds | -0.91% | -3.87% |
| Asia Bond Funds | 0.16% | -2.30% |
| China Equity Funds | -1.76% | -4.47% |
| European Equity Funds | -1.94% | -1.41% |
| Global Bond Funds | -0.27% | -1.79% |
| Global Equity Funds | 0.83% | 2.23% |
| Greater China Equity Funds | -2.16% | -5.57% |
| Guarantee Funds | -0.01% | -1.16% |
| HKD Bond Funds | -0.07% | -1.28% |
| HKD Money Market Funds | 0.04% | 0.41% |
| Hong Kong Equity Funds | -2.34% | -5.77% |
| Hong Kong Equity (Index Tracking) Funds | -1.27% | -3.66% |
| Japan Equity Funds | -0.71% | -3.81% |
| Lifestyle Funds – (>20% - 40% Equity) | -0.20% | -1.68% |
| Lifestyle Funds – (>40% - 60% Equity) | -0.29% | -1.76% |
| Lifestyle Funds – (>60% - 80% Equity) | -0.40% | -1.98% |
| Lifestyle Funds – (>80% - 100% Equity) | -0.47% | -2.10% |
| MPF Conservative Funds | 0.07% | 0.27% |
| Other Funds | -0.19% | -1.59% |
| Asia Pacific (Ex-Japan) Equity Funds | -0.62% | -3.76% |
| RMB and HKD Money Market Funds | -0.08% | -1.72% |
| RMB Bond Funds | 0.27% | -0.60% |
| US Equity Funds | 3.32% | 9.34% |
| DIS – Age 65 Plus Funds | 0.30% | 0.19% |
| DIS – Core Accumulation Funds | 0.84% | 1.94% |
* Performance is calculated from 31 DECEMBER 2017 to 30 AUGUST 2018
SOURCE: CONVOY INVESTMENT RESEARCH DEPARTMENT, WEBSITE OF MPFA AND THOMSON REUTERS LIPPER
COMPILED BY THE CONVOY INVESTMENT RESEARCH DEPARTMENT
- End -