Convoy and CurrencyFair meet with the Irish Minister of Business,
Enterprise and Innovation Affirming the company's strength in promoting FinTech
(1 November, 2018 – Hong Kong) Convoy Global Holdings Limited ("Convoy", "Convoy Global" or the "Company", stock code: 1019) is actively promoting the development of FinTech, not only being the partner of the FinTech Week organised by the Invest Hong Kong this year, but also, having the pleasure to meet with Heather Humphreys, the Irish Minister for Business, Enterprise and Innovation, together with our strategic partner, CurrencyFair, to exchange views regarding the latest developments in FinTech.
Convoy is committed to becoming an all-round international financial services enterprise. The development of the FinTech business is an essential component and the key strategy. The Company has introduced different innovative technology investment platforms to further enhance the business portfolio and to lead Hong Kong's FinTech connect with the world. In August 2018, Convoy has entered into a strategic partnership with CurrencyFair, an Ireland's leading provider of International Money Transfer services. Both parties work hand in hand with the cross-border payments and remittance services.
Michael Yap, Head of Venture Capital, Convoy Global said, "The meeting with representatives of the Irish Government affirms our unremitting efforts and strength in promoting FinTech. It is also a shot in the arm for our future development. Convoy will continue to actively explore more international renowned FinTech companies, introduce realm of professional, technology and operational knowledge, provide better services for the wealth enhancement of our customers, and prepare for virtual banking services to facilitate our community to enjoy the convenient service via FinTech."
Edmond Leung, Managing Director, Convoy Payments Limited ("Convoy Payments") said, "As the first key project of Convoy's FinTech business development, the subsidiary company which is engaged in payment business, Convoy Payments Limited, and CurrencyFair have jointly formed a strategic cooperation payment service plan. It will be officially launched soon. Our customers in Greater China can take the lead in enjoying low-cost, high-efficiency and convenient international money transfer services through mobile payment. On the other hand, CurrencyFair's international customers can enjoy online Asian currency trading services."
Based in the capital of Ireland, Dublin, CurrencyFair is a global leading internal money transfer service provider with over 100,000 customers throughout the EU and Australia. CurrencyFair's platform boasts an advanced automated matching system that offers customers low-cost money transfers across multiple currency pairings. CurrencyFair was invited to be one of the speakers of the FinTech Week to introduce International cross-border money transfer services to Hong Kong FinTech professionals, share their extensive experience and professional knowledge in FinTech development, and let more market practitioner and mass public understand their leading edge.
Photo description: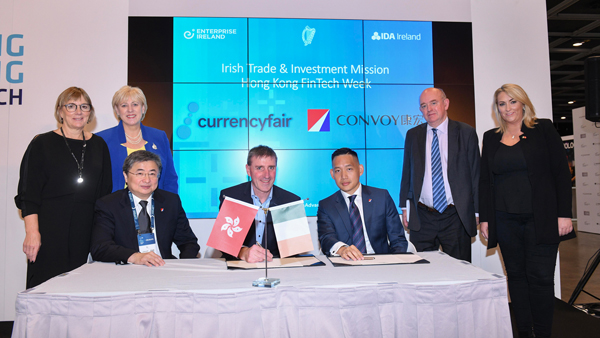 Michael Yap, Head of Venture Capital, Convoy Global (Third from the right), Edmond Leung, Managing Director, Convoy Payments (Third from the left), Heather Humphreys, the Irish Minister of Business, Enterprise and Innovation (Second from the left) and Paul Byrne, Chief Executive, CurrencyFair (Fourth from the left) attended Hong Kong FinTech Week.
-End-