Convoy hosts inaugural Hong Kong Fintech Forum
Fintech leaders gather to discuss industry challenges and opportunities
(29 January 2019, Hong Kong) Convoy Global Holdings Limited ("Convoy" or "the Group", SEHK: 1019) today held the "Beyond Finnovation" fintech forum at the JW Marriott Hotel in Admiralty, Hong Kong. Over 200 international fintech leaders, entrepreneurs and investors met to discuss industry trends and prospects. A key focus of the event was Hong Kong's potential to be Asia's leading fintech hub and the shared learnings and collaboration opportunities between players in Europe and Asia.
Mr. Michael Yap, Head of Venture Capital at Convoy, said: "We are thrilled to host the Hong Kong fintech forum. As Convoy continues to build its knowledge base and relationships in the fintech world, it felt incumbent on us to share these insights with the wider Hong Kong community. We are building a unique profile as a homegrown Hong Kong firm forging partnerships with many of the global leaders in consumer fintech. We aim to bring these world class platforms and services to the Hong Kong market, and hope the dialogue we create today will inspire more international dialogue and collaboration between fintech stakeholders in Hong Kong and their counterparts in other fintech hubs. We look forward to holding and supporting other similar events and to be a part of Hong Kong's continued development as Asia's leading fintech hub."
Enriching discussion and invaluable insights from an array of fintech leaders
Beyond Finnovation is organised by Convoy in conjunction with The Fintech Association of Hong Kong, the Hong Kong Management Association, Cyberport, Hong Kong Science Park and Campfire. Local and international experts hold a series of in-depth discussions analysing some of the hot topics in the fintech industry. The forum's goal is to add practical executional learnings to the vibrant Hong Kong technology ecosystem, and to promote greater collaboration between Hong Kong's fintech stakeholders and their peers in other established fintech hubs including London and Dublin.
Photo description: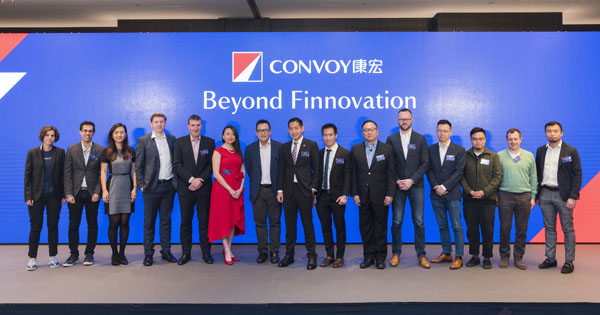 Convoy hosts the first Hong Kong fintech forum to catalyse discussion around industry challenges and opportunities and brings together international perspectives on Hong Kong's development path. Pictured above: Mr. Michael Yap, Head of Venture Capital at Convoy (Eighth from the left) sharing the stage with several fintech leaders.
-End-