Stock market rally continues
Convoy MPF Composite Index increased by 2.32%
(3 April 2019 – Hong Kong) As of 20 March, the Convoy MPF Composite Index was 233.13, with a 2.32% increase month-to-month. In light of the sustained rally of the stock market, Convoy MPF Equity Index was 253.39 with an increase in 3.37% on a monthly basis. The Convoy MPF Bond Index was 156.18, with a slight monthly increase of 0.53%. Despite the market fluctuation in the middle of the month, three Convoy MPF indices recorded positive growth.
Stock markets fluctuated and growth slowed down
Ms. Bonita Leong, Group Chief Product and Strategy Officer, Convoy Global Holdings Limited, said, "The market uptrend was disrupted resulted from the European Central Bank's downward revisions over its growth and inflation outlook in March this year. Meanwhile, the Chinese government decided to lower its official growth target. The trade data also showed a worse-than-expected dive in exports. Although growth concerns triggered profit-taking moves, market sentiment soon recovered as the Premier Li Keqiang indicated that more stimulus measures were ready to roll out. The Brexit concern was also eased after the UK House of Commons rejected the no-deal option and opted for an extension beyond the Brexit deadline on 29 March. In the US, a rebound was seen in the stock market led by the technology sector. In face of the slowdown in growth, major central banks have generally prepared to be accommodative. This benefited government bonds as yields trended lower in the month."
Summary of Performance of MPF Key Funds Class in March:
Equity Funds:

Greater China regional equities led the gain among major equity markets in March. Greater China Equity Fund, China Equity Fund, Hong Kong Equity Fund (Index Tracking) and Hong Kong Equity Fund rose 4.49%, 4.40%, 4.00% and 3.86% respectively.
Japan Equity Funds performed the worst for 2 consecutive months and recorded a 0.55% decrease month-on-month.

Bonds Funds:

RMB Bond Funds performed the best and recorded a 0.73% increase month-on-month and a 3.12% increase January-to-date.
Default Investment Strategy:

The Core Accumulation Funds of the DIS increased by 1.23% month-on-month, up by 10.16% January-to-date.
The Age 65 Plus Funds of the DIS slightly increased by 0.80% month-on-month, up by 4.40% January-to-date.
Convoy MPF Index Trend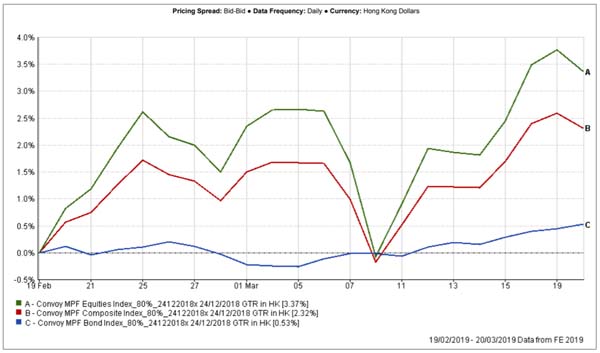 SOURCE: CONVOY FINANCIAL SERVICES LIMITED

COMPILED BY THE CONVOY FINANCIAL SERVICES LIMITED

DISCLAIMER: THE CONTENT IS FOR REFERENCE ONLY AND DOES NOT CONSTITUTE ANY SUGGESTION AND OFFER FOR INVESTMENT. PLEASE DO NOT RELY ON THIS ARTICLE FOR YOUR INVESTMENT DECISION. INVESTMENT INVOLVES ELEMENTS OF RISK AND THE HISTORICAL DATA OF THE FUNDSS IS NOT NECESSARILY AN INDICATOR OF THEIR FUTURE PERFORMANCE. CONVOY FINANCIAL SERVICES LIMITED ("CONVOY") HAS UNDERTAKEN REASONABLE EFFORT TO PREPARE THE CONVOY MPF INDICES. CONVOY CANNOT GUARANTEE THE ACCURACY
Performance of Fund Sectors:
| | | |
| --- | --- | --- |
| MPF Fund Sectors | Month-On-Month | YTD performance (Since 24 Dec 2018) |
| Asian Equity Fund | 3.07% | 11.27% |
| China Equity Fund | 4.40% | 15.70% |
| Europe Equity Fund | 3.13% | 12.91% |
| Global Equity Fund | 1.71% | 15.73% |
| Great China Equity Fund | 4.49% | 15.51% |
| Hong Kong Equity Fund | 3.86% | 15.02% |
| Hong Kong Equity Fund (Index Tracking) | 4.00% | 14.47% |
| Japan Equity Fund | -0.55% | 8.24% |
| United States Equity Fund | 1.40% | 20.23% |
| Uncategorized Equity Fund | 2.05% | 12.55% |
| Asian Bond Fund | 0.32% | 2.67% |
| Global Bond Fund | 0.59% | 1.91% |
| Hong Kong Dollar Bond Fund | 0.21% | 1.52% |
| RMB Bond Fund | 0.73% | 3.12% |
| Guaranteed Fund | 0.52% | 2.44% |
| Mixed Assets Fund (21% to 40% equity) | 1.15% | 5.43% |
| Mixed Assets Fund (41% to 60% equity) | 1.54% | 7.90% |
| Mixed Assets Fund (61% to 80% equity) | 1.87% | 10.20% |
| Mixed Assets Fund (81% to 100% equity) | 2.36% | 12.91% |
| Default Investment Strategy – Age 65 Plus Fund | 0.80% | 4.40% |
| Default Investment Strategy – Core Accumulation Fund | 1.23% | 10.16% |
| Uncategorized Mixed Assets Fund | 2.22% | 10.86% |
| MPF Conservative Fund | 0.08% | 0.27% |
| Money Market Fund – Other than MPF Conservative Fund | 0.49% | 1.76% |
# MPF FUND SECTORS BASED ON MPFA CLASSIFICATION
* THE PERFORMANCE OF MONTH-ON -MONTH IS CALCULATED FROM 19 FEBURARY 2018 TO 20 MARCH 2019
THE PERFORMANCE OF YTD IS CALCULATED SINCE 24 DECEMBER 2018
SOURCE: CONVOY FINANCIAL SERVICES LIMITED
COMPILED BY THE CONVOY FINANCIAL SERVICES LIMITED AND THE CONVOY FUND RESEARCH DEPARTMENT
DISCLAIMER: THE CONTENT IS FOR REFERENCE ONLY AND DOES NOT CONSTITUTE ANY SUGGESTION AND OFFER FOR INVESTMENT. PLEASE DO NOT RELY ON THIS ARTICLE FOR YOUR INVESTMENT DECISION. INVESTMENT INVOLVES ELEMENTS OF RISK AND THE HISTORICAL DATA OF THE FUNDSS IS NOT NECESSARILY AN INDICATOR OF THEIR FUTURE PERFORMANCE. CONVOY FINANCIAL SERVICES LIMITED ("CONVOY") HAS UNDERTAKEN REASONABLE EFFORT TO PREPARE THE CONVOY MPF INDICES. CONVOY CANNOT GUARANTEE THE ACCURACY
–End –