Convoy Collaborates with CUHK Business School to Launch "Mini-MBA" Programme: Invests over HK$1 Million in Cultivating Local Leaders in Financial Advisory
(25,Jun 2019─ Hong Kong) Convoy Global Holdings Limited ("Convoy" or "the Group", HKSE: 1019) today announces the collaboration with the Asia-Pacific Institute of Business, the executive education arm of The Chinese University of Hong Kong (CUHK) Business Schoolto provide a "Mini-MBA" programme tailor-made for the Group's senior executives, further enhancing the trainings for its financial consultants and management team.

As Hong Kong's first financial institution to launch "Mini-MBA" courses with CUHK Business School's Asia-Pacific Institute of Business, Convoy has invested more than HK$1 million in this programme to advocate its corporate value of lifelong learning, with courses that are tailored to meet the company's specific needs. The 2019-2020 "Mini-MBA" features a three-tier programme which consists of nine modules, covering a wide range of topics such as Emerging Technology, Design Thinking, High Performance Leadership, Corporate Governance, and Managing Strategic Investment Decisions.
Ms. Almond Wong, Group Chief People and Culture Officer, Convoy, said: "Investing in our employees is the core of Convoy's long-term development strategy. We are thrilled to partner with CUHK Business School to offer the "Mini-MBA" programme. With a shared vision, we aim to nourish future business talents and encourage their professional development. As the "All-round Money Manager" of Hong Kong, Convoy is dedicated to help its clients to achieve their financial goals at different stages of life with a growing team of professional financial advisor equipped with leadership and innovative thinking."
The "Mini-MBA" programme enables over 100 senior executives from Convoy to attend since its inception. Executives were internally selected from various departments, including the front-line financial advisor team and multiple core departments. Convoy's Human Resources Department has been working closely with CUHK Business School in designing and developing the course content.
Ms. Shirley Tsui, Manager of HR Projects & Talent Development, Convoy, said, "In today's digital economy, senior executives need to have strong analytical and critical thinking skills in order to quickly adapt to the rapidly changing needs of our customers. As the industry leader, Convoy continuously invests in cultivating talents. We provide a variety of training programmes aim at lifelong learning, to allow our colleagues to further enhance their skills and professionalism. We will continue to launch a series of training programmes that align with the company as we continue to transform and grow, strengthening our competitive edge in the market."
This programme adopts an interactive approach with a mixed use of lectures and seminars by CUHK Business School, aiming the executives to keep abreast of the evolving market trends and equip them with solid industry knowledge and leadership skills. Upon completion of the "Mini-MBA" course, students will receive a Certificate of Completion issued by CUHK Business School's Asia-Pacific Institute of Business.
Prof. Waiman Cheung, Executive Director, the Asia-Pacific Institute of Business at CUHK Business School, said, "Established in 1990, the Asia-Pacific Institute of Business is committed to design and deliver customized senior management courses for public and commercial institutions in Hong Kong. We are pleased to partner with Convoy in launching the "Mini-MBA" programme. We look forward to continuing our collaboration with Convoy and further improving the management and leadership skills of our local financial talents."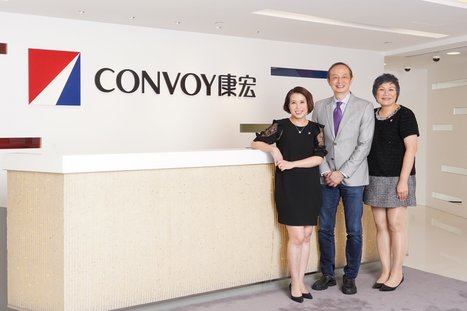 From left: Ms. Almond Wong, Group Chief People and Culture Officer, Convoy; Prof. Waiman Cheung, Executive Director, the Asia-Pacific Institute of Business at CUHK Business School; Ms. Shirley Tsui, Manager of HR Projects & Talent Development, Convoy
– End –