Convoy MPF Indexes
Convoy MPF Indexes - Latest Performance
20 Dec 2020
Convoy MPF Composite Index
264.46
Convoy MPF Equity Index
293.14
Convoy MPF Bond Index
172.79
Convoy DIS Core Accumulation Index
117.58
Convoy DIS Age 65 Plus Index
111.52
About Convoy MPF Index
Composed of at least half of the funds in the MPF market

Covers at least 95% of the total assets under management of the MPF market

Being the index and the standard for constituent fund selection
Convoy MPF Indexes are provided by Convoy Financial Services Limited
How it works?
The composition of the index and the standard for constituent fund selection
The index must cover at least 95% of the total assets under management of the MPF market

The Convoy MPF Composite Index is composed of at least half of the funds in the MPF market
The Weighting of the Constituent Fund
The weighting will be adjusted semi-annually
The data of Convoy MPF Composite Index, Convoy MPF Equity Index & Convoy MPF Bond Index before March 2012 is a result of back testing
The data of Convoy DIS Core Accumulation Index and Convoy DIS Age 65 Plus Index before July 2019 is a result of back testing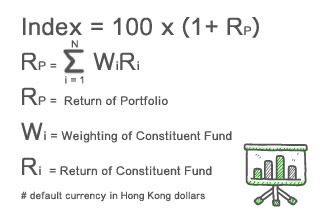 Summary of Performance of MPF Key Funds Class in November:
Convoy MPF Composite Index rises by 4.05%
With positive return of all MPF Indexes since July
As of 20 November, Convoy MPF Composite Index was 260.45, with a 4.05% month-to-month increase.
Vaccine news excites markets Stocks beyond technology rises
November finally brought the long-awaited good news of successful vaccine trials from both Pfizer and Moderna, with an efficacy rate of over 90%. This led to a rise in equity markets, but different from the previous rise. In previous months, markets have been driven by the high-flying technology stocks which were benefitted from home economy. In this month, there is rise on the underperforming value stocks. Sectors such as energy, banking and particularly travel have huge jumps on their share prices. However, it still takes months until the distribution of vaccines reaches globally, in the meantime, the virus continues to spread rapidly, particularly in Europe and the Americas. It will be interesting to see whether this marks a permanent shift in markets or merely a blip.
The US election results stimulates overseas markets
The vaccine news was a pleasant distraction from the US election. President Trump refusing to concede the US election was thought to be the worst scenario for markets, but this was not the case. One reason would be most legal challenges launched by Trump's team have not proven successful. The US will see the inauguration of President Biden on 20th January expectedly. The Republicans may have lost the presidency, however, they managed to hold onto the Senate. This will make things more difficult for Joe Biden to implement changes, Trump's tax cuts have largely boosted markets over his presidency, it is unlikely to roll back now.
The news from the US provided a much bigger boost abroad, particularly within Chinese and Asian markets. It is not a secret that the relations between the US and China have become increasingly strained over the Trump presidency. It is hoped that Joe Biden will pursue a more diplomatic tack that will lead to more stable trading relations with China, which would be a boost to both countries.
Summary of Performance of MPF Key Funds Class in November
◼ All sectors produced positive returns for the month, reflecting investors being positive with the vaccine breakthrough, which will hopefully see a return to normality in 2021.
◼ The equity sector outperformed all other asset classes once again.
Equity Funds:
◼ Hong Kong Equity was the best performing sector, with return rate up to 7.52%. This was followed closely by the Japan, Europe and China sectors, reflecting the broad global market rally.
◼ The Chinese Equity has continued to be a strong performer with the Greater China MPF returning 6.18%. At the beginning of the year, foreign investment within China began to evaporate. As China has done a better control on the epidemic, the economy is bouncing back quicker that foreign investment is flowing back.
◼ European markets were another strong performer with Europe Equity returning 6.43%. Europe has lagged the US and China in recent months, because of the poor performance of the energy, travel and industrials sectors which make up a big part of the economy. These were the sectors that rises largely with the vaccine news
Bond Funds:
◼ The money market sectors which mainly consist of very short term borrowing and deposits performed as expected, producing small but positive returns like last few months, with a range of 0.0% to 0.87%. Interest rates keep at very low level globally, returns from the money market sectors is not expected to rise shortly.
◼ Fixed interest sectors continue to produce modest returns. Investors remain positive as central banks and governments continue to support markets by buying bonds. This month, MPF Fixed Interest – RMB was the best performing sector with 1.16% return rate, this can be attributed to a strengthening currency, as foreign investment continues to pour into China and away from regions with higher infection rates.
Mixed Assets Funds:
◼ With equity markets dominating this month, the mixed asset sectors performed as expected. Those with the highest equity content produce the biggest returns, while the more bond-heavy sectors lagging. MPF Mixed Asset 81% to 100% outperformed with returns of 5.38%. Comparatively, HK MPF Mixed Asset 21%-40% returning just 2.38%.
Disclaimer:
Information on this website is for reference only and does not constitute any investment advice or offer. Do not rely on the said information to make investment decisions. Investment involves risks, and prices of funds may go up or down. Past performance figures are not indicative of future performance.